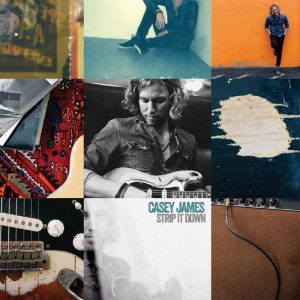 What more does this American Idol finalist need to have a wicked new release? Having Tom Hambridge as your producer certainly helps. Having Delbert McClinton and Bonnie Bishop as guest vocals is also an added plus.  But for Casey James, the finishing touch was to stop listening to others and simply listen to his heart.  For Casey's new album, Strip It Down, has the melodic "last word." He clearly shows what a musician can do, peeling back the layers, and giving listeners his version of the Texas Blues.
Strip It Down opens with "All I Need," a well-written blues piece taking inventory on life. One line, "Sometimes where you're at is where you're supposed to be," hits a nerve. "Bulletproof," another well written blues piece features Delbert McClinton. Delbert's voice compliments Casey so well. But it's the Little Willie John's cover, "Need Your Love So Bad," that's picture-perfect. Casey displays his talent in this quiet blues piece speaking volumes. The following track, "Different Kind of Love," has a Motown flavor continuing to complement the Willie John's cover. But it's "Stupid Crazy" that got me, a Bonnie Bishop duet with a Cash/Carter feel to the piece. Having a slow moving sultry tone, I love this track.
To say Casey James shines is to say the least. Each track represents his roots, the Texas Blues. But Casey does more to Strip It Down showing not only his roots, but his innovation. He mixes the past with his present, while showing off what he cultivates from his roots. In an auspicious way, Casey James reaps what he sows. Casey says it so well, "All I want to do is play music." I'm J.R. Joseph Miller, and this is Casey James Stripping It Down.