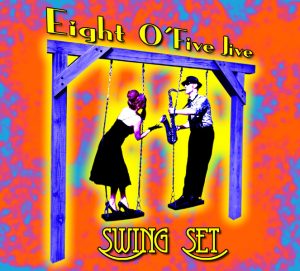 Music is a powerful vehicle. It doesn't take much to move us to that bygone comfort zone.  Anytime we feel the need, we pull out our vinyl time machine as it takes us everywhere including roads less traveled.  
Growing up listening to 30's, 40's, and 50's tunes, I was an easy target. The music reflected the past spot-on, but provided a detour to the present. They were swinging side to side providing serious blues/jazz flavors.
The band is Eight O'Five Jive. Their new release is Swing Set. A set to seesaw with, Swing Set opens with "Make Mine a Double." The intonation on this track is astounding. The piece is seasoned with a 40's big band sound. Lead vocal, Lee Shropshire, has a voice that is exemplary, and sublime for this jump jive tune. Another piece, "Get Away," drifts from the I-IV-V to a jazz improvisation. A song to hear better live, "Get Away" cooks. Bass players usually get no respect, but not here. "Put It Back" offers a cool bass solo. I loved the sax solo on the track, "One More Glass of Wine." Lead guitarist Andy Scheinman adds to the track with a chic guitar riff while the percussionist kept the band to task throughout the album.
Eight O'Five Jive sounds more like a band of fifteen than five. Swing Set is a vehicle that captures the past but offers an innovative touch. Lovers of jazz and the blues will appreciate the creative lyrics with musical extemporization. Their live shows are outstanding as well. I'm J.R. Miller with High Note Reviews and this is Eight O'Five Jive playing on the Swing Set.